If you have no room left in your garden or you live in an apartment and miss having a garden, then hanging baskets are the perfect solution. Hanging baskets offer a seasonal burst of colour that you can plant to reflect garden trends or your favourite colour combinations. But don't limit yourself to flowers; consider incorporating herbs or veggies for an edible sensation.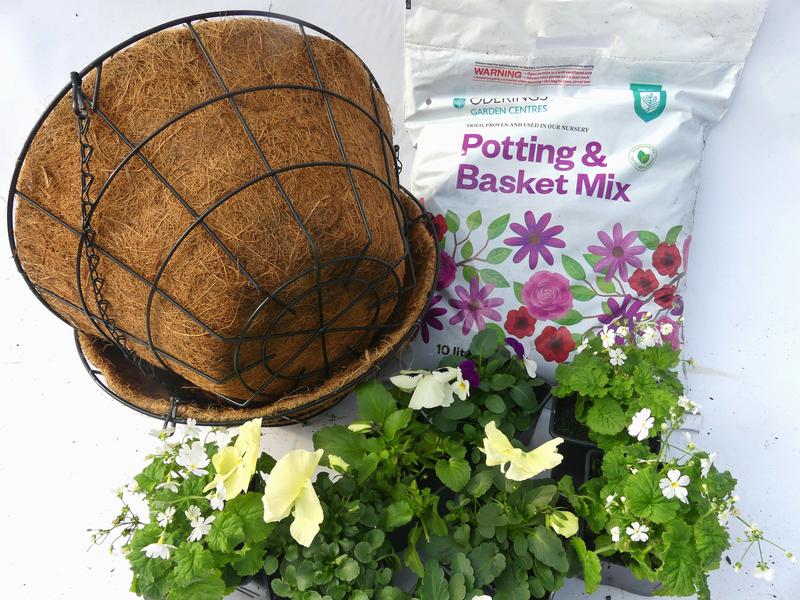 Getting Started
You will need a hanging basket, potting mix and plants, but you may also want to consider sphagnum moss and Oderings Total Replenish.
Purchase a basket with a pre-formed liner. If you have an existing basket you can get new liners or moss to form the base if needed.
If you want to have the sides planted, now is the time to cut some cross or diamond shapes into the liner. By planting on the sides you will have a flower ball that drips with colour and hides the basket. Alternatively, you can just plant the top of the basket and use cascading plants around the edges.
Select a quality potting mix. For our hanging baskets we use Oderings Potting & Basket Mix. This is a mix that Oderings specifically designed with baskets in mind. It contains a wetting agent, meaning you do not need to water nearly as often. To avoid baskets drying out too quickly you can also incorporate sphagnum moss in the soil when planting.
Fill the basket with soil to just below the first layer of cuts you have made in the sides of the liner, then firm the soil. You are ready to put in the first layer of plants. An easy way to get your plants through these cut holes without damaging their roots is to wrap the roots in newspaper and push it through. Remove the paper and then fill the soil up to the next layer of cuts and repeat the process until you are 5cm from the top of the basket. I always leave this 5cm so the basket is easier to water.
Now it is the time to plant the top of the basket. Pick a larger, more upright plant for the centre piece, then evenly space the cascading or smaller-growing plants around the edges. You can add more plants later into the top of the basket if necessary.
When the plants start to flower add some Oderings Total Replenish. This is a slow-release fertiliser, which will ensure your plants keep flowering for some time to come.
To view this full article and information on what plants to use when creating a hanging basket, visit us online at www.oderings.co.nz.
Plants to Pick
The plants you choose vary depending on the season and the location of your basket, but for summer my top choices are as follows:
Hanging in the Sun
Ageratum, alyssum, angelonia, bacopa, dianthus, diascia, gazania, geranium, lineria, Livingston daisy, lobelia (cascading or upright), marigolds, nasturtium, nemesia, nicotiana, osteospermum, petunia (upright, cascading or dwarf), phlox, portulaca, pyrethrum, salvia, sweet peas and verbena.
Hanging in Semi-Shade
Begonia (bedding or tuberous), dianthus, impatiens, lineria, lobelia, mimulus, pansy, petunias, pyrethrum and violas.
Plants for the Sides (where you have made the cuts)
Alyssum, bacopa, begonias (tuberous), impatiens, Livingston daisy, lobelia (cascading), mimulus, petunia (cascading), nasturtium, portulaca and sweet peas.
Vegetables
Perpetual lettuces, tumbling tomatoes, lunchbox peppers, baby spinach and dwarf beans and peas.
Herbs
Coriander, basil, sage, thyme, parsley, rocket, English lavender, chives, French sorrel, trailing rosemary, mint, oregano, marjoram, lawn chamomile, catmint and catnip.
Remember the bigger the basket, the bigger the display, and larger baskets need less watering. So don't hold back; colour is easy with hanging baskets.