Pressed Flower Art
Flower pressing has been around forever, and it's easy to see why there has been a resurgence in its popularity. Saving beautiful flowers and foliage, which can then be used in art and decorating, is a wonderful idea. It allows you to bring the outdoors in and make the summer colour last. The process of pressing flowers is quite simple; and although it does take some time for flowers and foliage to become fully dry, the end results are well worth the effort.
How To: Cut as many fresh leaves and flowers as you would like in order to create your masterpiece. Make sure you choose the best-looking ones and pick them mid-morning while they are at their freshest. Trim off any leaves or stems from the flowers so they are easier to press. Flatter flowers are easier to press; thicker flowers can also be used but will take longer to dry.
There are many flattening methods and we will be using two of them, a traditional flower press, and heavy books and paper.
Book Method: Put your first book down, place a layer of smooth cardboard and then layers of absorbent paper. Arrange your flowers and foliage face down onto the paper, ensuring none are touching. Put an extra 1-2 pieces of paper and card on top of your foliage and place a second book on top. You need thick, good quality paper, such as printing paper, blotting paper, or another absorbent paper at around 150gsm or higher, as the moisture from the flowers can seep through and stain. You can then weigh down the books with more books, bricks or other heavy objects; just make sure the weight is evenly distributed.
Flower Press Method: Arrange the flowers or foliage on paper above the base and cardboard layers, and then cover with the top layer of paper, cardboard and the top of the press. Tighten the wingnuts evenly around the frame and it's ready to dry. You can generally fit multiple layers of flowers and cardboard in the press, which is good for bulk drying.
Set aside and wait two weeks before first checking. You can change the paper if you like, and see how much more drying your foliage and flowers need. Check at weekly intervals until everything is fully dry. This can take around 3 to 4 weeks.
How to use your flowers: Once your flowers and foliage are fully dry you can use them however you like; by framing them, placing them in a scrapbook, or decorating cards. Be very gentle with your new pressed flowers and foliage; it is best to move them with tweezers to avoid crumpling them. Make sure your hands are clean/non-greasy when touching them.
To make flower glass frames: Lay out all the flowers and foliage on the inside of the glass till you're happy with the arrangement. Then gently dab some household craft glue onto the foliage and flowers to hold them in place. Once the glue is dry, close the frame and it is ready to hang.
You can use any flowers or foliage you like, and your options will vary between the seasons.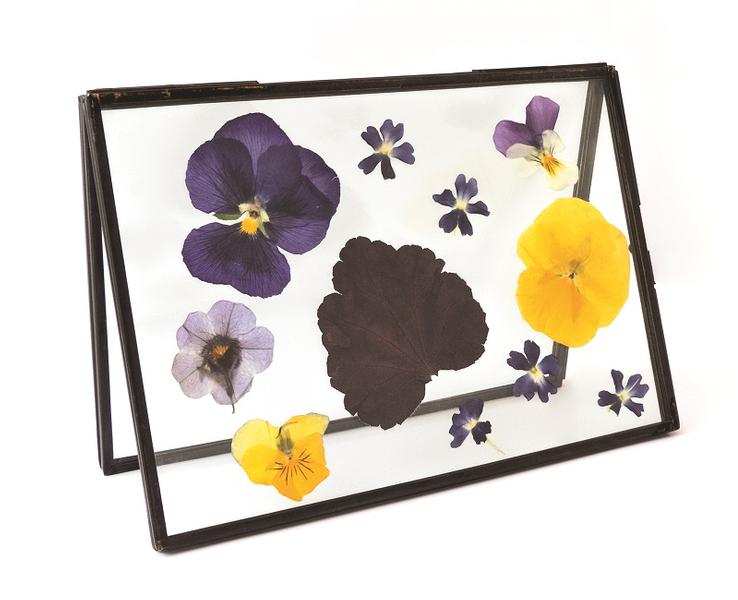 Foliage options we love:
Cineraria silver dust
Heuchera and heucherella
Thyme
Begonia leaves
Flower options we love
Summer
Daisies
Coreopsis
Cosmos
Queen Anne's lace
Nicotiana
Marigolds
Verbenas
Larkspur
Borage flower
Gypsophila
Nasturtium
Nigella
Lavender
Winter
Viola & pansies
Dianthus
Antirrhinum
Calendula
Stock
Poppies