Upcycled Herb Growing Tins
This craft idea is a great form of up-cycling and is a creative way to bring some colour and practical plants into your home; it is also simple enough to do with kids. These can be made into stylish herb cans for the kitchen windowsill, personalised flowerpots for a child's bedroom, and many other options.
What you'll need
Tin cans, empty and clean, with the original wrapping removed
Drill to make holes in the bottoms of the cans
Paint brushes (for glue)
An adhesive such as PVA glue, which dries clear
Oderings herb template labels from website
Transparent acrylic sealant spray
Oderings potting and basket mix
Your choice of herbs to fill the can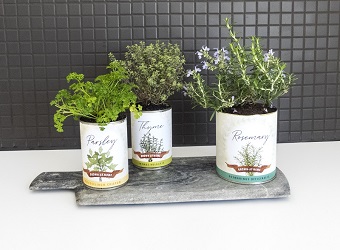 How to:
Step One: Ensure cans are well cleaned and that all sharp edges and original wrappers are removed. This is most easily done in warm/hot water as the paper will just tear away. The hot water also softens the remaining glue which can generally be scraped off.
Step Two: Make sure you drill some drainage holes in the bottom of your cans before planting in them; this will ensure your plants have healthy roots that don't rot from sitting in water.
Step Three: You can paint your tin can as you wish or leave it silver coloured.
Step Four: Head to the Oderings website and print off the herb/veggie/flower templates for your cans. Cut them to size allowing a few millimetres gap at the top and bottom of the can so the edges can be fully sealed.
Step Five: Glue the labels to each of your cans by spreading the PVA evenly over the back of the label then placing on the can, pushing gently to make sure there aren't any gaps in the can ridges. Spread a thin coat of PVA over top of the label as well and allow to dry.
Step Six: If you want the can to be reasonably water-resistant, you can coat it with a clear acrylic spray paint (we used White Knight Crystal Clear Acrylic). Apply a first coat and allow to dry before spraying with a second coat. This will provide extra protection for the cans from light rain and spills from watering, as you can just wipe away any moisture.
Step Seven: Once the can is decorated it's time to plant it. Fill the can 2/3 full with a good quality potting mix, then plant your herbs into the can and fill in the sides with more soil. Add water until it runs out of the drainage holes. Once the dripping has stopped, place your plant can in its new home and remember if you are keeping your cans indoors to place them on a saucer to stop any mess.
Below are the printable labels to wrap around your tin cans.
Thyme Label Dill Label Oregano Label
Basil Label Rosemary Label Parsely Label