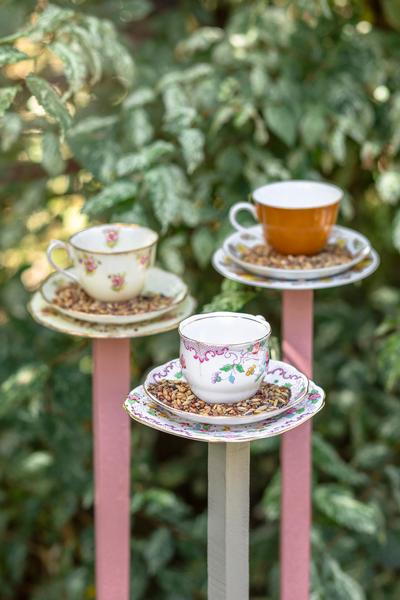 DIY Bird Feeder
Your backyard birds deserve to be a bit fancy every now and again and these beautiful teacup feeders are perfect for their high tea. Make use of an old tea set or pop into your local op shop and get your thrift on.
This is a fun, low-cost project that benefits the birds, while also creating a lovely art pieces to display in your garden.
You will need
Teacups & saucers
Glue (make sure it is UV stable & waterproof, we used Ados F2 Multipurpose Contact Adhesive)
Paint brush
Chain (if you want to hang the feeder)
1-inch wooden stake (if you want to create a stand feeder)
Paint (if you want to paint the stakes)
Masking tape
How to:
Clean your teacups and saucers in hot soapy water to remove dust and oily residue. Dry thoroughly.
Glue your plate and saucer together and leave to dry for 48hr.
Brush a decent amount of glue onto the centre of the saucer and glue the teacup bottom to the saucer. Once in place, r

emove any excess glue and use masking tape to hold the cup in the desired position. leave to dry for 48hrs.

Alternatively, glue the teacup to the saucer on its side with the handle facing up, then you can thread a chain through the handle and create a hanging feeder.
Place your timber stake and hammer into position. Now glue the combined cup, saucer and plate onto the timber stake and leave to stand for another 48-72hrs.
Fill the cups or saucer with Topflite Wild Seed Mix and enjoy watching the birds.